Waiting for people interested in our field visits on site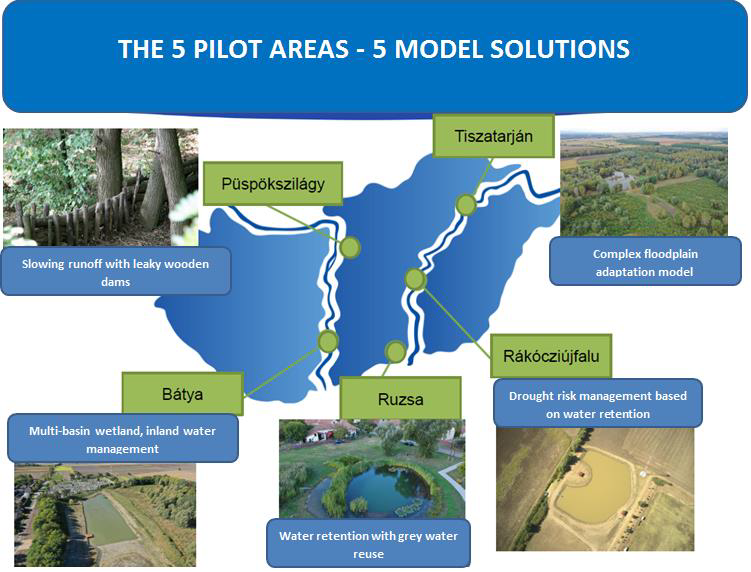 We will organize field visits to the five pilot sites (Bátya, Püspökszilágy, Ruzsa, Rákócziújfalu, Tiszatarján) for the local authorities in Hungary, so that they can get to know better the natural water retention measures implemented in the LIFE-MICACC project. If you are experiencing extreme weather events (drought, floods, flash floods, inland floods) in your municipality and would like to do something to mitigate the damage and negative impacts, get acquainted with the water retention measures already implemented in 5 municipalities in the country. Don't miss the opportunity to get know up close these cost-effective, locally well-performing solutions with many opportunities! During the field visits - As well as getting to know these solutions - you can ask directly about the details of the improvements from mayors and those involved in implementing them. Viewing the sample solutions and sharing project experiences can help you if you are considering a similar development in your own municipality. The issue of water retention was get into the priorities of several operational programmes of the 2021-2027 development cycle (TOP+, KEHOP+), under the framework of which it will be possible to apply - in whole or in part - for similar near-natural solutions.
Find out more about these solutions and register for one of our events today!
Participation in the field visit is free of charge, but prior registration is required. Due to the budget allocated to the project and the pandemic situation, we are able to accept registrations up to a limited number of 25 people per event. Please limit the number of people per organization to a maximum of 2 per event, so that we can ensure the participation opportunity for the other interested municipalities.
The invitation and detailed programme for each field trip can be found on the registration page. In the framework of the LIFE-MICACC project, field visits (17) will take place on the following dates:
| | |
| --- | --- |
| Dates of on-site field visits | Registration interface |
| Rákócziújfalu – 21 June 2021 (Monday) | registration is closed |
| Rákócziújfalu – 22 June 2021 (Tuesday) | registration is closed |
| Rákócziújfalu – 28 June 2021 (Monday) | registration is closed |
| Rákócziújfalu – 29 June 2021 (kedd) | registration is closed |
| Ruzsa – 5 July 2021 (Monday) | registration is closed |
| Ruzsa – 6 July 2021 (Tuesday) | registration is closed (has been merged) |
| Ruzsa – 7 July 2021 (Wednesday) | registration is closed |
| Püspökszilágy – 8 July 2021 (Thursday) | registration is closed |
| Püspökszilágy – 9 July 2021 (Friday) | registration is closed |
| Bátya – 12 July 2021 (Monday) | registration is closed |
| Bátya – 13 July 2021 (Tuesday) | registration is closed |
| Bátya – 19 July 2021 (Monday) | registration is closed |
| Bátya – 20 July 2021 (Tuesday) | registration is closed |
| Püspökszilágy – 27 July 2021 (Tuesday) | registration is closed |
| Püspökszilágy – 28 July 2021 (Wednesday) | registration is closed |
| Tiszatarján – 2 August 2021 (Monday) | registration is closed |
| Tiszatarján – 3 August 2021 (Tuesday) | registration is closed |