Construction works started in Rákócziújfalu in early April
Rákócziújfalu, located in the middle section of the Tisza river basin, is extremely exposed to inland floods ant the growing water shortage, which is further accelerated by the intensive agriculture in the area. The planned prototype solution will provide integrated land use and water management practices, in response to local water-related risks, be it flood, inland water, drought, heat waves or heavy rainfall. This prototype could serve as a solution for regions where the supply chains of agriculture and the food industry have a major impact on the area's water resources. In the area dominated by agriculture, the main goal is to keep the excess water caused by inland water and heavy rain in a reservoir, thus mitigating the water shortage that develops during the drought period.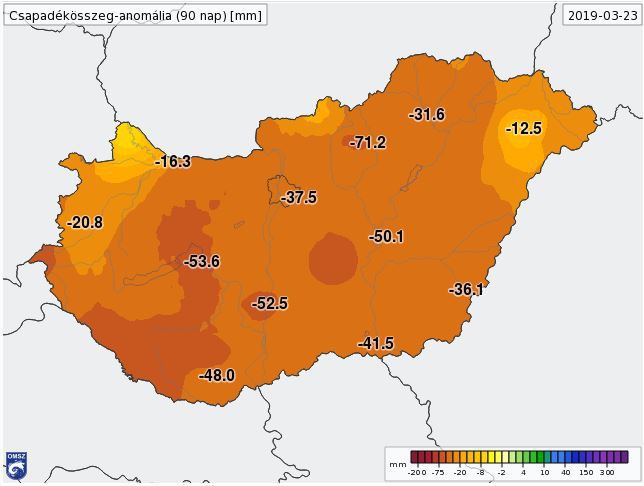 90-day precipitation anomalies (2019)
In the former floodplain of the Tisza, there are many deep-lying areas where this type of reservoir can be created. In the case of Rákócziújfalu, the sewer network on the outskirts of the settlement will be transformed with artefacts suitable for water retention. It has so far not been used to retain inland water and rainwater. The village's inland rainwater drainage network will also be connected to the external sewerage network, and the nearby fishpond and the Nagykunság Main Canal will also be suitable for water replenishment. This is linked to the previously mentioned deep-water reservoir formed on poor quality agricultural soils. At the same time, it creates a 0,6 hectare wetland habitat, which will require the removal of existing sediment and the construction of a dam and a water-retaining structure.
Construction of the outdoor sewer network and its connection to the lake
They are currently working on the lake construction of a reservoir lake in the settlement. The humus layer has been extracted, and the reservoir has also gained its final shape and extent, although work is still underway on its depth. During extraction, the lakebed and embankments are formed, which greatly contributes to the development of wetland biodiversity. The construction of the lakebed in the reservoir space will be completed soon, and the construction of the lookout hill will take place in parallel. Currently, there is water in the canal, which is although one of the main goals of the project, it is not favourable for the construction work. However, we are confident that the necessary foundation work can begin soon.
Construction of the reservoir lake and the artefacts
The investment also provides opportunity to increase green space, which is not only useful for its oxygen-producing nature, but it is also important because each plant has a water-binding function. According to the Municipality's plans, a fire pit, benches and tables will be placed in the area, which will later be suitable for recreational purposes, and even a lookout tower will be built on the hill.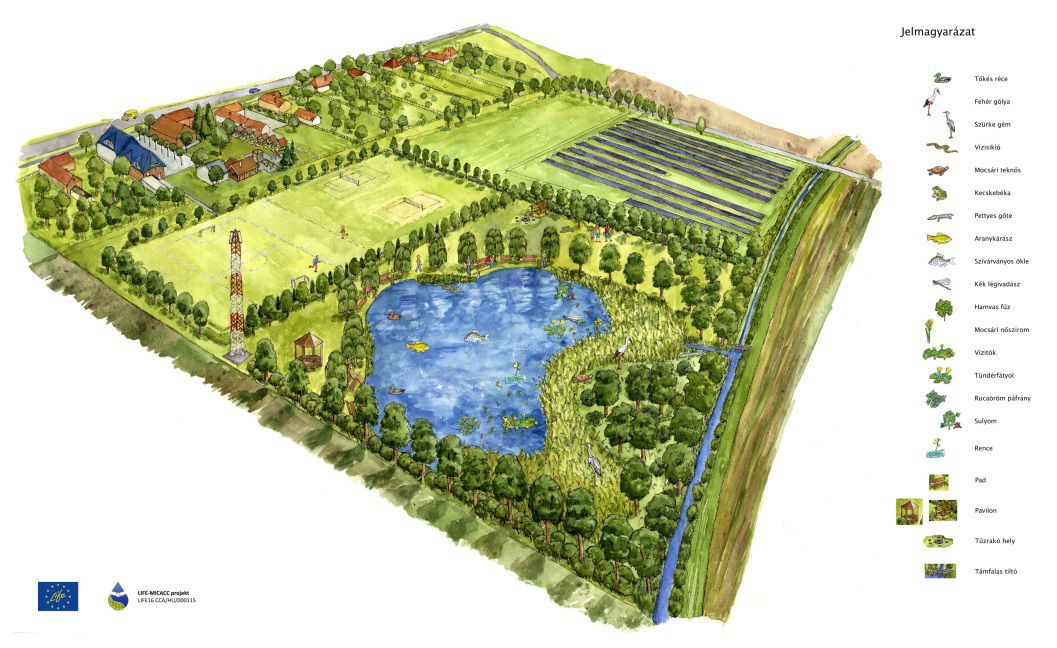 The future plan of Rákócziújfalu's inland water reservoir at a time of high water level
(Created by Kinga Csaba, Csilla Ruzics)